Post by adamskafan on Sept 21, 2006 21:36:45 GMT -5
Most of this is factual. Some of it is speculation.
For a long time, the Links and Zeldas that appear in the LoZ games were completely unrelated, living in alternate universes of the same dimension.
This changed when OoT arrived. They decided, from now on, that all Zelda games from that point will involve the same Universe.
This Link would save the world, being the Hero of Time.
When Link began time travelling, what he didn't know was that he had aquired a strange new power. A new... Presence.
A God's Presence.
In Majora's Mask, Link has returned to the original Time Line after sealing Ganon away in both timelines, for if Gannon is sealed in the future, Ganon is sealed in the past.
All things become normal again.
So Link goes travelling. He winds up in a new country, far to the [whatever] of Hyrule. His horse is scared off and he goes chaseing after the culprit.
He winds up on a hunt to release teh giants, Godlike beings who can lift the moon itself.
Ironic, for that's exactly what's about to destroy the world. The moon.
And it's an aaaaaangry moon.
So, Link collects masks. But these masks NOW react to him, when before they did nothing. They give him powers in this game. They did not in the last.
This is due to the Presence.
After defeating the Skull Kid, Majora's Mask transforms the poor bastard, turning him into a demon and completely killing off his will. Link is now authorised to KILL the Skull Kid. The Mask pulls them into another dimension, a small pocket in space that it created. And Link aquires the Diety Mask. Link puts it on and is fused with it, and he becomes the Fierce Diety.
He strikes down the Skull kid.
And the rest is history. Many years later Wind Waker happens, and following that, Twilight Princess.
But what happened to Fierce Diety Link?
I believe we are about to find out.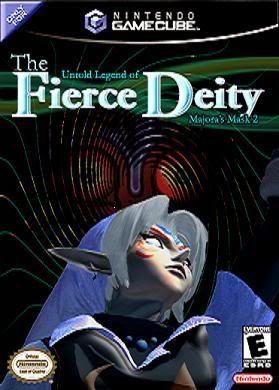 I know the box says only for gamecube, but I have reason to believe they will release this as the next LoZ game, following TP, for the Wii.
Speculations?